PRISCILLA
Based on the 1994 popular movie of the same name, Priscilla Queen of the Desert follows the journey of three drag performers (Tick, Adam and Bernadette) as they drive across the Australian outback in their bus, named Priscilla. Tick has been asked by his estranged wife, Marion, to bring his drag show to the Alice Springs casino. He asks Adam and Bernadette to join him, but does not reveal that he has an 8-year-old son living there who now wants to meet his father. As they head west, Tick, Adam and Bernadette learn to accept and support each other whilst encountering a number of strange and colourful characters, some of which are judgemental of their appearance and lifestyle.
Adam is forced to realise that not everyone is tolerant of his flamboyant personality, Bernadette opens up to the possibility of love again following the death of her husband, and Tick finally meets his son, Benji, who accepts his father unconditionally. The trio perform at the casino and realise that they have forged a bond that will last forever. 
Full of well-known pop songs and supported by three divas, Priscilla: Queen of the Desert is a flamboyant, funny, disco-fuelled musical that gets the audience up on their feet.
Creative Team
| | |
| --- | --- |
| Director | Richard Perdriau |
| Musical Director | Malcolm Fawcett |
| Choreographer | Cassie Pennicuik |
| Costumes | Ely Wallis |
| Set Design | Richard Perdriau |
| Lighting Design | Jason Bovaird |
| Sound Designer | Marcello Lo Ricco |
| Graphic and Program Design | Luke Martin |
| Production Manager | Paul Santzaridis |
| Stage Manager | Katy Roose |
Performance Dates
The Round – City of Whitehorse
Tickets at www.theround.com.au
| | |
| --- | --- |
| Friday, 7 June 2024 | 8pm |
| Saturday, 8 June 2024 | 2pm Matinee |
| Saturday, 8 June 2024 | 8pm |
| Sunday, 9 June 2024 | 2pm Matinee |
| Thursday, 13 June 2024 | 8pm |
| Friday, 14 June 2024 | 8pm |
| Saturday, 15 June 2024 | 2pm Matinee |
| Saturday, 15 June 2024 | 8pm |
| Sunday, 16 June 2024 | 2pm Matinee |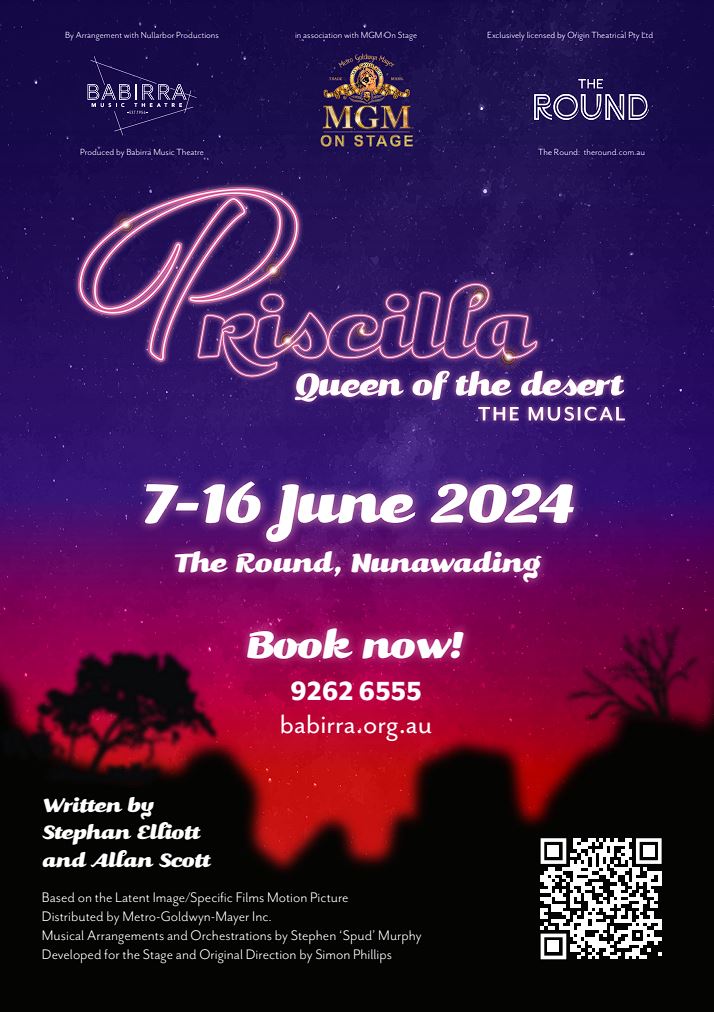 June 7 @ 20:00 — June 16 @ 22:30
Karralyka Centre